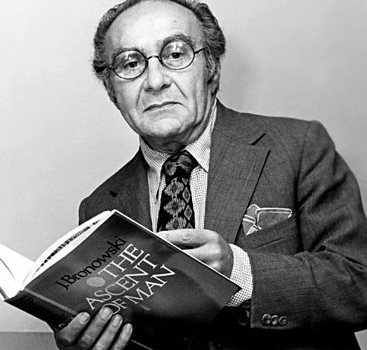 This episode is a tribute to the late great philosopher, mathematician, poet, and science popularizer Jacob Bronowski (1907-1974). Forerunner to such figures as Carl Sagan and Richard Dawkins, Bronowski was a true Renaissance man of the twentieth century and a pioneer of intellectual communication to the public at large and science popularization. Best known as the writer and host of the 1973 BBC documentary series The Ascent of Man, Bronowski deserves recognition on a much wider scale among the general public for the effort he put into promoting humanism, science, and world peace in his day. Hence this episode, for which I am honored to be joined by special guest Timothy Sandefur. He is the author of the 2019 book The Ascent of Jacob Bronowski: The Life and Ideas of a Popular Science Icon, the first ever biography of Jacob Bronowski.
Timothy Sandefur is vice president for litigation and holds the Duncan Chair in Constitutional Government at the Goldwater Institute. He is also an adjunct scholar with the Cato Institute and a graduate of both Hillsdale College and the Chapman University School of Law. He has written a number of other books, including a biography of Frederick Douglass, and dozens of scholarly articles on subjects ranging from slavery and the Civil War to political issues in Shakespeare, ancient Greek drama, and Star Trek.
Links:
Timothy Sandefur on Twitter: https://twitter.com/TimothySandefur
Timothy Sandefur's book: https://www.amazon.com/Ascent-Jacob-Bronowski-Popular-Science/dp/1633885267
"Michael Parkinson Interviews Dr Jacob Bronowski 1974," Michael Parkinson interview with Jacob Bronowski, 1974, YouTube video, 1:05:12, posted on July 30, 2012, https://www.youtube.com/watch?v=DFgnGUL78MU
"Day at Night: Jacob Bronowski," interview by James Day, April 9, 1974, YouTube video, 28:21, posted on March 28, 2011, http://www.youtube.com/watch?v=PvUe94My8Wo
C.P. Snow, The Two Cultures and the Scientific Revolution: https://www.amazon.com/Two-Cultures-Scientific-Revolution/dp/1614275475
Peter Laslett, The World We Have Lost: https://www.hist.cam.ac.uk/prospective-undergrads/virtual-classroom/secondary-source-exercises/sources-people/laslett
The recording of Bronowski discussing the problems of the Is/Ought distinction is taken from his 1973 interview with George Steedman, and is available online at http://ia600504.us.archive.org/11/items/NuclearExplosionUnclearResponsibility/Part06-NuclearExplosionUnclearResponsibility-ConversationsWithBronowski.mp3.
Join the official discussion group of this podcast at www.facebook.com/groups/aleapofdoubt.
Follow me on Twitter at https://twitter.com/TheNatheist.
The opening intro and closing outro were written by Nathan Dickey, produced and edited by Rich Lyons and read by Deanna Joy Lyons.
Check out our website: https://reasonrevolution.org.
Give us a like on Facebook: https://www.facebook.com/reasonrevolution.